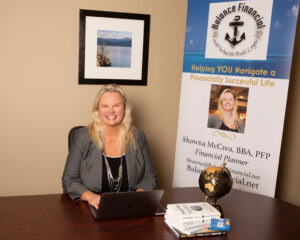 When I first met Shawna McCrea at a Balance Well-Being event over five years ago, I thought, "Wow, she really understands people and sees possibilities for them miles away." When I learned she'd had years of leadership experience in the financial industry and community building, my engaging first impressions came into fuller view. 
Shawna supports individuals and companies on their voyages to viability. Like a ship's captain focused on land, she can spot hazards and help you to steer in the right direction. Motivated by a deep caring for others and a desire to see them succeed, Shawna also knows that in order to keep firm hands on the helm means you have to have fresh thinking about the money.  
Shawna is the owner of Balance Financial, through which she encourages her clients to challenge their beliefs and assumptions about wealth and envision what a truly fulfilling life means to them. Her unique power lies in the heart-centred honesty she brings to her expertise. Shawna gets to know each client thoroughly, addressing their anxieties and discovering their dreams, so they can form healthier habits and make more meaningful choices. 
Shawna also understands that charting a bold course can be daunting when we're faced with a vast array of options that don't always serve our vision. True potential comes from within, and by asking tough questions while working with a trusted partner who has our best interests at heart. 
Also the founder and CEO of Balance Well-Being, Shawna is a positive and inspiring force for me and many here in the Okanagan Valley, so it is with great pleasure that we shine this Spotlight on her for the first time. 
Let's go back into your story. You had a unique educational journey, one of long-term determination. Tell us about that and how it has informed your appreciation of people's unique paths. 
When I first went to the University of Calgary after high school, I had great aspirations of making a difference in the world. I started off in computer engineering, but soon found this wasn't a great fit for me. Although I loved math and physics, the first physics class at U of C was crazy hard and I was definitely too energetic and optimistic for my computer tutorials. So I fell back into my comfort zone and took a lot of math classes — pure math, applied math, statistics, et cetera — but then struggled to imagine what I would do with a math degree. The only real option was to be an actuarial, and that wasn't going to work because I need to be with people.
So in my third year I decided to go into business. This was the fit I needed. Then came another obstacle. Just shy of the grade point average required at that time, I tried improving my grades but became disillusioned. I decided to stop and travel.  
Time passed, life moved forward, and I got a job with TD in Calgary. But I was unsettled inside: it really bothered me that I hadn't finished my degree. So when TD transferred me to Kelowna in 2003, I decided to go back to university and finish. I knew it would be a challenge as I was managing the TD branch in downtown on Ellis and had a wonderful three-year-old daughter, but I was determined. Taking on one course a semester, I finally got my BBA from UBCO in 2008.
The experience taught me the importance of people honouring and following their own paths and dreams, and that there is no one absolute way that suits all people.    
You spent over twenty years in banking. What are some of the chief principles and insights you learned from your leadership experience there that you apply to your work today?  
I was lucky enough to work for a man named Doug McElligott, who became a wonderful mentor for me as I grew my leadership skills. My number one principle was to invest in my staff. I took coaching very seriously and always stuck to putting my staff first. We made decisions as a team. People are amazing if you give them opportunities, attention when requested, and the autonomy to shine. They can do amazing things, and I love being right there with them on their journey when they need me for support and encouragement.  
What are some of the most common fears or obstacles people struggle to overcome when it comes to money? And what are some of the first questions you ask a client?
Shame. For some reason people think they should have the innate ability to be great at money. I worked at TD for more than two decades and I am still learning and growing my money skills. Our money culture here in North America doesn't help either. We are encouraged to live our best life by borrowing money to get everything we want. There is so much noise about money all over the media and from people we come in contact with, it is really hard to navigate all the options successfully.
Some of the first questions I ask are these: What are your dreams? What do you do for fun? Do you have your goals mapped out? What worries you?  
Your videos are very effective at breaking bigger questions into digestible topics. But one over-arching concern is the idea of legacy. This can be daunting, as it means different things to different people. How do you help your clients to start examining this for themselves?  
You are exactly right, Tom. Legacy means different things to different people, so I talk with my clients honestly and find out what is truly important to them. There is one question I hear often: What are we supposed to be doing? I don't think there is a "supposed to" for everyone. People vary and lives vary, so I like taking the time to find out what they want out of life, including their legacy wishes. Once we have an understanding and picture of this, what they choose and don't choose becomes clearer, easier, and less stressful for them. 
Let's talk balance! I've heard its meaning discussed and contested by some over the past year. This, too, means different things to different people, and at different times. What does it mean to you personally and in your advice to others? 
Personally balance means coordinating all the important aspects in my life successfully: family, friends, career, health, and fun. It's about not being overwhelmed with tasks that don't necessarily need to be done. My wonderful mentor, Doug, taught me about this. Many of us have seen that effective rock metaphor demonstration of trying to fit big rocks, pebbles, and sand into an empty jar. If you start by filling the jar by sand, then pebbles, you will not have room for rocks, which symbolize the things that are the most important in your workload. You can learn more at getmarlow.com. These are definitely different for different people. I highly respect this and only weigh in if asked.  
In your observation, how have the economic and life uncertainties during the pandemic challenged us and caused shifts?  
Some people have definitely had some challenges and I totally feel for them, but I have also seen many wins. Financially it has been a very good time for some. For example, some people are paying down debt, because they couldn't travel or spend as much. And I've seen new innovation companies, flexibility in the workplace, flexible work options, and many other positive adaptations. There have also been some technological wins, and industries that have been fighting against e-transactions have had to shift or lose out.  
During my financial consulting calls I have see a lot of shifting as well. People are getting divorced, changing jobs, or retiring early. I think what we have been experiencing has forced people to make moves they had been avoiding.  
What drives you every day to do what you do, through Balance Financial and BWB? What is your vision for your legacy? 
People amaze me, and I love interacting with them, hearing about their lives and their businesses. I had a crazy notion when I first moved to the downtown Kelowna branch that I was going to visit every business in the downtown core. Well, during eight hours I think I hit maybe twelve businesses. I got so caught up when I would ask owners to tell me about their business. They lit up like parents talking about their children. I am always in awe of those who decide to start their own business, because I know how hard it is and how much drive and commitment you need to be successful.
As a branch manager I also got a unique behind-the-scenes perspective of how at times people and businesses were taken advantage of by bad actors, or talked into products or services that were overpriced or weren't needed. These experiences continue to inform what I do. 
As for my legacy, I love being a cheerleader, a sounding board, and a support. To bring that to clients and the community so that people believe in their own potential and find ways to realize possibilities — this is what I want.  
Tell us something about yourself many wouldn't know — a fun fact, interesting perspective, or engaging story. 
When asked that question, I usually share that I was married on the beach in Bali, but I don't think people know my true love of numbers. I have been in the financial industry for a very long time, which people are aware of, but it goes deeper than that. I love creating spreadsheets, crunching numbers, and looking for efficiencies.  At times I play number games in my head when seeing house numbers, license plates, or other numbers in the community.  I think I got this love of numbers from my dad.  He worked in the public school system in Calgary and was a math teacher before becoming a principal. He was so very patient, encouraging, and supportive with me when I was doing my math homework. He also inspired my love of participating on sport teams. He always coached high school basketball and/or football. When I was little I loved hanging out with him and his teams.  
Shawna McCrea, BBA, PFP
Financial Planner
Balance Financial 
Helping YOU Navigate a Financially Successful Life 
Tom Kernaghan, owner of Oak Writer
I write stories about people, businesses, and communities so that people will remember what makes them uniquely powerful.
Tell me your story!
(250) 863-6297
oakwriter.com