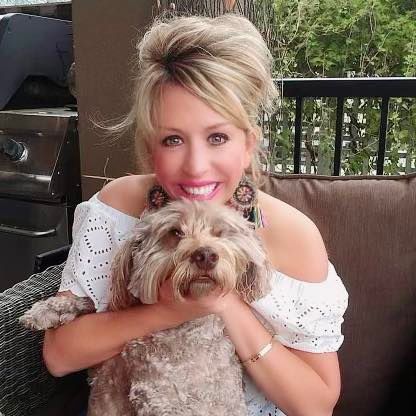 When you first meet Karly Fiddes you feel as though you went to high school with her, worked together on a fundraising project, or met at summer camp. Okay, you may say fostering familiarity is a core skill of any successful radio host, but it's more than that. Karly's uncommon mix of verve, vulnerability, and verbal vivacity can connect and wake you up faster than a large cup of extra dark roast. Yet within her strong voice whispers a deeper quality that makes the morning easier: a kind and unpretentious heart that feels the strain along with us … and then magically makes it fun. 
That's certainly the feeling I had when I first met Karly and during the two times I shared the stage with her — first as one of the storytellers at BWB's Storytelling Tuesday five years ago, and then as a one-time co-host of that same event, a role she performed with electric energy for a couple of years. Not surprisingly, Karly was way better at speaking off the cuff to a crowd than I was. She is a pro, after all. But I digress. 
As for Karly's quips and digressions, they are hilarious. Those who have met her or who  have listened to B Mack and Karly on Virgin Radio will already know this. Together they create a sonic space popping with possibility. And what makes Karly so engaging is her saucy candour, her ability to laugh at herself, and her willingness to share her foibles and struggles. What makes her inspiring is how she has turned her challenges into advantages and landed her dream job.
Realizing that dream, however, took effort. Up against both dyslexia and ADHD, Karly ventured out from her childhood home of Vernon, with many thinking she would never succeed. After studying broadcasting at BCIT, she found her footing and her voice first in Victoria, and then ventured to Vancouver and Vernon. For the past five years she has helped thousands of Kelowna listeners get a better start to each weekday. 
Okay, enough from me. Let's turn the "mic" over to Karly…     
Karly! Thank you for doing this. When did you know radio was for you, and why? What did it stir in you? 
School had always been difficult for me as I am dyslexic and have ADHD. My parents spent countless hours trying to find someone to help me. Finally, when I was in my teens, I went to see psychologist Dr. Peggy Barr, who is now retired in Kelowna. She was my angel — she changed my life. Peggy worked with me, tested me, and then suggested I go into broadcasting. After high school, I followed her advice and attended BCIT, graduating from the broadcasting program. From the very beginning, I knew I loved broadcasting. It filled me with pride to have something I knew I could do and, I hope, do well.
What do you love about the people of this city that brought you back from the coast to connect with them every day? 
Born and raised in the valley, I feel as though I fit into a small community, not a city. Also, the number charity functions I've been a part of where money is raised by and for the community is unreal; it's impressive and deeply rewarding. The heart of doing and giving in this city is big; the people of Kelowna are great! It's a very special place to me. And fun! Having skiing and snowboarding, water sports, biking, hiking, restaurants, wineries, and everything in my backyard is unbeatable. Best of all is my job here at 99.9 Virgin Radio Kelowna and all my wonderful listeners who inspire me every day. I am so thankful to be here, living and experiencing everything Kelowna has to offer.
You've been quoted as saying, "Never lose sight of your goals, as dreams do come true." What was one of your tougher moments when belief triumphed over doubt? 
As school was so difficult for me and I never got the help I needed, I was labelled as the student who struggled, got laughed at, made fun of, even by some of my teachers. One who you would think knew my struggles would go out of his way to embarrass me. He would call on me to read something that he knew I couldn't do and seemed to take great pleasure in humiliating me. This teacher was just one of a few who were like that. When I think about it now it makes me want to cry. However, back then, my mother would not allow me to get down on myself, and both my mom and dad would call a few of them out. These teachers were more interested in the kids who did well in school and in sports. I sucked at both. I believe students like me took up too much of their valuable time, from their perspective. But to me, great teachers — and there are many — take the time to guide and inspire you, to help you gain the confidence you need to succeed. Teachers need to know that a lack of support stays with you throughout your life, especially for kids who don't have the emotional support at home. Fortunately my parents were my biggest allies. My mother was a bulldog and no one was going to make me feel bad about myself. Her words to me were, "Never give up. And never let anyone make you feel that you are not worthy."
And never in a million years did I think I would graduate from broadcasting at BCIT and get an on-air job right after graduating, a story that apparently didn't happen much. I am not perfect, I make lots of mistakes, and I can laugh at myself — so I can relate to people. I have learned to be myself. What you see is what you get, and that's okay by me.
When sit down to write, it's like I'm whispering to a buddy at the back of a pub. What's happening inside of you when you get in front of the mic?
Don't screw up! Lol, I'm lucky to have B Mack, who's not only my co-host but also one of my best friends. Even though we have only worked together coming up on five years, we have morphed into each other. I'm not sure if it's because we're the same age and we were both born and raised in the Okanagan or because we spend so much time together, but we can easily finish each others sentences. So I always know in the back of my mind that if I do screw up (which happens often) he's there to save me, and vice versa. Also, knowing nobody can see me on radio allows me to be vulnerable and be my authentic self, and knowing all that I just try to be me. So what goes through my head is, be one hundred percent myself and never take a side.
Let's talk Storytelling Tuesday. You were fantastic! What are your fondest, most meaningful memories of STT?  
This is the easiest question! What I remember most fondly about Storytelling Tuesday is Shawna. She is such a remarkable and special person to so many. She's caring, kind, loving, and she accepts everybody. And STT has allowed me to meet so many phenomenal people and hear their vulnerability and their stories, which always makes me feel that I am not as much of a "black sheep" as I think. That's the beauty I saw and felt during my time hosting, co-hosting, and sharing stories. Because of STT, you notice how many people are like you, that you're not alone. You realize that everybody struggles in some sort of way. The specifics vary, but we share that universal truth. 
What does your version of balance and well-being look like? 
I'm still learning that. Family has and always will be my first priority, but sometimes I can forget about other important things in my life. Being aware of ME is something I'm working hard on. 
I try really hard to be consistent but keep pushing myself to learn things from other people — to keep EVOLVING. To me balance is a healthy mix of family love (whatever that looks like to you) and work.
Yours is a tough business. And there are lots of podcasts and other content competing for our ears and eyes. What would you tell young people who want to go into radio or media today? 
If you want to get into media — meaning radio TV, et cetera — because you want recognition and/or fame, then this business is not for you! It doesn't work that way. This is an extremely competitive industry with only so many positions. If you don't have the heart or the gut (in my opinion) then A) it may not work and B) you will be disappointed. I can only speak for radio here: we are a certain kind of breed.  
The war in Ukraine. This has a personal connection for you. Would you be willing you talk about that? 
I am very proud of my Ukrainian roots. My Baba and Dido were immigrants and were lucky to be sponsored as refugees to Canada, in 1949. Although they loved it here in Canada, they had wonderful stories of their homeland, Ukraine. Ukrainians have wonderful traditions, food, and a special love of family and country. My grandparents were amazing people who could do everything. They also knew war, death, torture, starvation, and destruction of an entire country. I know they could not bare to see this happening again, and for that I am thankful they are in heaven. One thing I realize is how we take freedom for granted, but not the people who have had to flee their country because of war. They are the ones who really know what it's like to have freedom and choices, and the true value of those. Slava Ukraini.  
Share something about yourself that many wouldn't know, even after all these years. 
I'll share a few! I was a horseback rider growing up, and I had a horse named Moose. Speaking of names, my real one is actually Karlan. Thirdly, I was also a downhill ski racer when I was younger. I was the worst one on the team, but still a racer!
Tom Kernaghan, owner of Oak Writer
I write stories about people, businesses, and communities so that people will remember what makes them uniquely powerful.
Tell me your story!
(250) 863-6297
oakwriter.com