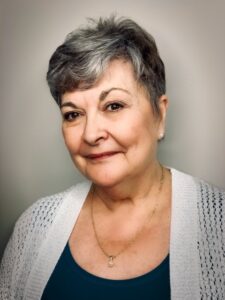 "Have you ever seen a waterfall you didn't like?"
This question has been swirling around in my mind since I heard Donna Fairhurst pose it in a recent BWB video. It's an apt metaphor for this "endless student of life on Planet Earth" who has been gathering and mastering a vast array of skills and gifts for decades. Like a river, Donna draws from many sources and can go deep to help her clients find their true selves and "know, grow, flow, and glow." 
Donna is a unique life/soul coach, Reiki master, psychic medium, empath, and aura and chakra intuitive who isn't afraid of to face truths and surrender to personal change. However, her path to wisdom has been a long and circuitous one. Her diverse history includes banking, tourism, theatre, volunteering, and coaching swimming; travelling the world and studying with many teachers, including an Egyptian Coptic priest, a Jesuit priest, an imam, and a Buddhist nun, all while networking with two oil companies and three airlines to create and teach an ocean awareness and crash survival preparedness course — to name just a few experiences. 
To Donna, who describes herself as Chief Evolving Officer, these seemingly eclectic experiences all flow into one journey of her "sacred soul self," an inner sense of being she felt intuitively from a very young age but avoided for most of her life.  
Having survived near blindness and polio as a child, three near-death experiences,   resistance from those close to her and from within, and many harrowing personal challenges throughout her life, Donna understands that whatever we go through, whoever our egos would have us think we are, we are all souls in motion from the same universal source. We are love. She also knows that each of us is on our own path to find our own expression of what this means. 
Today Donna helps professional women "and a few brave men" embrace their unique essence of being human by cultivating the clarity, coherence, and calmness to let life flow through them freely. Harnessing the full range of her modalities, abilities, and insights, she guides her clients through their most difficult transitions and empowers them to reach their highest levels of self-awareness, purpose,  joy, and potential. 
Your story is fascinating! At 64 years old, when most people are thinking of kicking back, you kicked into action and launched a new career. Although you had been learning about spirituality and wellness for decades, at the age of 54 you still hadn't accepted your true gifts and path. I'm curious about that 10-year period. Tell us about the evolution into your truth.
Oh gosh! I'm sorry, there is no short answer to that one. Like every decade of my life, there were monumental shifts of seismic proportions challenging and illuminating me on every level of my being, as such things are meant to. 
From 1992 — 2005, I had to lean in hard through repatriation after more than twelve years overseas, a divorce, multiple deaths of loved ones and friends, a huge career shift, suicidal thoughts, relocating my daughter to a healthier home and school environment, and seeing my son off to study in the US only to launch his career far away. I missed them terribly. I fell in and out of two relationships, and during that period moved eight times to meet career and family obligations. I was a busy woman! I felt like I was lost, people pleasing, and leaning into everything and everyone else except me.
In 2005, at 54, I finally found my centre, mentally, physically, emotionally, and spiritually. I  stepped into my personal power and chose to become a human "being" rather than a human "doing." I chose my home, my job, my friends differently. I communicated differently with everyone and everything, especially Source. I interacted with all that IS on a completely different basis that I ever had. I did not need, feel, or want someone or something else to complete me. God shrugged, laughed loudly, and sent the love of my life, and my true soulmate, to match and challenge me on all those levels. 
In 2006 I married Frank and returned to a town I said I would never go back to. I began the job of melding leather, chintz and china — LOL — mixing Frank's very British/Euro style with my very eclectic Asian/cowboy fusion. That done, I quickly tired of being a domestic goddess and decided to go to work in his business. He owned and operated a mechanical engineering design and manufacturing firm. Although that was the last thing he expected, he welcomed me in and quickly learned I had some pretty non-traditional ideas. I was not going to be a secretary or stock clerk.
I decided it was time for me to try something completely new and worked as a machinist, millwright, and welder, which I did for three years. I loved it. I loved taking raw steel, brass, and plastic materials, and shaping them it into something shining and bright with a whole bunch of different tools and machines.
It was the map of a new way of defining my capabilities. I could do a man's job in a man's world very successfully, and I loved it. I did nearly cut off my hand in the process, requiring one year of recovery. My dear co-worker, and a gifted teacher, Ed Lindsell, framed and hung my torn and bloodied glove (stitched with sequins) above the milling machine as a reminder to be present now! Another defining moment as a student of life! 
A few years later we sold our company and moved to train the people taking it over. I didn't care for the new environment, so I retired and did what one does: I read, studied, began writing poetry, drawing, painting, decorating, and doing a lot of gardening. 
I had never used my psychic gifts publicly and certainly never for a business. There were only a few people in my life who knew the real me. Not even my siblings and children knew much, if anything, about it. When I retired, many people in difficult situations began randomly appearing and seeking guidance and help. We call that synchronicity. It became clearer to me that I was meant to do something with this, but what, when, and how?
One day my husband sat me down and gently, firmly, lovingly told me I was wasting a God-given gift. I had been in the closet with it most of my life. He reasoned that if deceased family, friends, and strangers were showing up and sending me messages, there was clearly "something more" I was supposed to do with those messages and my knowledge. And if not now, when? He has continued to support me unflinchingly on this path.
So, after much angst and dithering, at 64 I launched Soul Full Solutions. It quickly morphed from just readings, Reiki, aura imaging, and shows, to become full-on coaching. I realized that with all the changes and transitions in my life, I had all the tools and experience necessary to help others do the same. I just didn't know how to launch from that place of awareness.
I firmly believe that when you are not creating results you want, you find someone to teach you how to do that. I knew how to teach, speak with spirit, see and read auras, and how to help people. Although I had owned and operated a business, and had been an executive in many others, I didn't know how to run and promote a non-traditional, holistic business, or have any mentors who were doing it.
I joined the Women's Holistic Business Academy, where I received and am still receiving mentoring and coaching from the incredible Elizabeth Beeds and Steven Chambers in the Women's Holistic Business Academy's Immersion and Leadership programs.
Working with them gave me the confidence to step fully into coaching, and help others to find their way, from wherever they are stuck in their lives to where they need to "BE." 
It is my ultimate purpose in this lifetime. Everything that came before was training and  leading me to this. I love what I am doing and do not plan on retiring anytime soon. 
The power of experience and wisdom is that you can cut through confusion. What are some of the questions you ask a client when they first approach you for a consultation? 
Have they ever worked with a coach, Reiki master, or intuitive before? 
What drew them to me? Where are they stuck? 
Do they have a spiritual practice? If so, what is it?
How do they define energy, or source, as it relates to them? How is that working for them?
What ideal outcomes are they hoping to achieve? 
What are their dreams and goals? 
What troubles them and keeps them awake at night?
What's their reality? What's stopping them? 
How much self are they prepared to invest in themselves?
These are some of my key questions. I am not a psychologist, psychiatrist, medical or clinical counsellor. I am an intuitive holistic practitioner with practical, doable tools for realizing optimum results. I guide my clients to understand, use, and integrate those tools, mentally, physically, emotionally, and spiritually. This is a complimentary discipline that enhances life, not a replacement for medical science.
What happens next? What do the next steps look like?  
I require a detailed intake form, which we use after the initial consultation to enter into a coaching contract. We are a team, and along the way we connect deeply with their guides and angels. We show up together, and we create the space for success and self-actualization. This is not smoke and mirrors. It is living in the present, here, now.
During the first call, we noodle at least one sticking point, or a difficult transition they are currently working on. We find at least one way to move forward positively right then and there. My one-on-one coaching programs run for six or twelve months for a specific number of hours per month. Each program contains many of the same teaching elements; however, each program is individually created for each client. I meet them where they are. No two are exactly the same because no two souls are the same.
It takes time to identify and work through layers and years of this and past lives. I have been described as a tough love coach in a velvet glove. I feel that is pretty accurate. I am always humbled and inspired by how deep my clients are prepared to dive, and by the privilege of working with their spirit guides and angels, as a medium and empath. I incorporate healing Reiki, sound, meditation, and EFT, amongst other things. My coaching is grounded, practical, spiritual, balanced, intuitive, and fun.
You certainly have a wonderful variety of tools and modalities. It must be rewarding to find the right mix for an individual. What does the ideal outcome look like as you move through your work together?
The ideal outcome is to create balance, clarity, and optimal coherence in their lives. Together we identify and learn how to deal with self-sabotage, negative self-talk, and disempowering practices, and then replace them with tools for living and making solid, empowering  choices from a place of self-awareness. 
It is very gratifying that many all of my clients elect to keep working with me in a coaching capacity beyond their contract terms. My practice is very full and fulfilling. I only take on clients who are passionate and prepared to the work on themselves, to create their best reality. A few times I have had to gently fire a client who did not need me anymore, as they were more than ready to step into their own power. 
How does the process differ when you work with a group?  
Until now, the only groups I have led have been part of holistic expos and wellness events, where I was speaking and presenting workshop sessions on a single topic: aura and chakra balancing, or the power of intention, et cetera. While that has been a wonderful part of my life and business that I will continue to do on a limited basis, it is about to change rapidly. I cannot keep up with the growing demand for one-on-one coaching. So, embracing a group online platform is the next logical step forward to continue my work.
I am very excited to be rebranding and launching a new website, Facebook page and group. And, time allowing, I will offer three monthly online master classes, as well as participate in an extraordinary (soon to be announced) Women's Spiritual Summit online. The icing on that cake will be launching two six-month, or one twelve-month, online Zero 2 Clarity group programs in late fall this year or early 2021. I am still deciding the timeline on that.
Yes, like your clients, you continue to evolve and shift! Let's talk more about your  rebranding and new website. Tell us about your new focus and what differences, and similarities, visitors can expect. 
Thank you for asking! It's another positive step forward for me in my own evolution as a coach and teacher. Same Donna, same modalities and principles, just more of me, for more of you, in more places. We are launching DonnaFairhurst.com in the next few weeks. A brand-new name, look, and some exciting new and expanded programs. 
I am not divorcing myself of Soul Full Solutions. I am incorporating it as a direct result of using the methods, principles, programs, and tools I have developed in my powerful Zero 2 Clarity coaching programs. Soul Full Solutions will be the measurable results achieved from working with me, and the tools I provide, as I guide my clients and groups through the programs. So, www.DonnaFairhurst.com will be a melding of both. There will be period of overlapping sites as we integrate to ensure no one gets left out in the cold. 
I wish we could explore your many roles and experiences! But let's focus on two. What did your time working in theatre teach you about people that you can apply to your work today?
I have always loved the magic of theatre and how it transforms the actors and the audience. As an aura and chakra intuitive, I see people's true colours very clearly and even more so from the stage. There I noticed with even more intensity how diverse topics, themes, and actions affected people's energy fields collectively, yet differently. 
I learned what, how, and where words and actions resonated in their minds, hearts, and bodies and thus changed and charged their chakras and auric fields — and those that their fields touched. I had observed this my whole life. This was a different perspective of it. It totally confirmed the value and sacredness of collective consciousness to and for me.
We live in an online-connected world now. You only have to turn on your TV, radio, computer, or pick up a newspaper or cell phone, to see that playing out across the globe. Some of it is worthy of our attention and a lot of it is not. That does not mean we are consciously spiritually aware. We are now being held morally and spiritually accountable to all for all of humanity, whether we realize it or not. Not by God, but rather by humanity, which is long overdue.
Old ways of thinking, categorizing, or limiting the capacity of all of us to thrive and be heard, protected, valued, and respected are passing away. Like any transition, it is confusing, sometimes painful, yet always emancipating in some way. We as the human collective are preparing to make a leap in spiritual evolution that has not been seen since the launch of the Industrial Revolution.
Given our water theme, I would be remiss if I didn't ask the same question about your time as a swim coach.
Water of any kind is restorative and sacred, whether it is a glass of water, a bath, a shower, a swimming pool, river, lake, pond, puddle, great ocean — yes, a waterfall — or in our bodies. Water sustains us and all life on the planet. It heals us, floats us, teaches us. We travel on it, clean with it, drink it, and play with and in it. Water is the juice of life. Teaching children from the cradle to adulthood to see, feel, respect, honour, and love water has been one of the greatest joys of my life. I have always said and taught, "Where water goes energy flows."
Tell us some fun stuff about yourself. 
I am absolutely nuts, pardon the pun, about crunchy peanut butter on Manchester loaf with thinly sliced Gala apples, Earl Grey tea, and nice bit of fine dark chocolate to finish. I trekked nearly 10,000 kilometres exploring and studying the ancient Mayan, Aztec, Inca, and Toltec sites of Mexico, Guatemala, Nicaragua, and Belize over a period of four months, and I have an extensive bucket list which includes skydiving and hot air ballooning.
Current Website: Soul Full Solutions Coming soon: Donna Fairhurst
https://www.soulfullsolutions.ca https://www.DonnaFairhurst.com
[email protected] [email protected] [email protected]   [email protected]
Office: (778) 622-2743  Office: (778 ) 622-1743
Mobile: (250) 535-0746 Mobile: (250) 535-0746
Tom Kernaghan, owner of Oak Writer
I write stories about people, businesses, and communities so that people will remember what makes them uniquely powerful.
Tell me your story!
(250) 863-6297
oakwriter.com