When:
April 13, 2019 @ 1:00 pm – 1:45 pm
2019-04-13T13:00:00-07:00
2019-04-13T13:45:00-07:00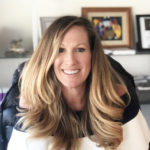 In this talk, Janice will take us on a journey through her path to Ahava, the study of healing and recovery, the activation of our inner voice and its relationship to our beliefs about our own self-worth. She will explore how her work in these areas led her to embrace her own purpose through her mission-driven company, Mazu.
Janice Taylor is a social entrepreneur, a mother, inspirational speaker, author, and online safety advocate.
After a long journey from her Saskatchewan roots, Janice has emerged as a pioneer is solving the growing epidemic in Social Media and its impact on emotional, physical and mental health.
She has a Bachelor in Psychology and spent many years studying the impact of addiction on the human spirit. Her credo of compassion, community and caring drives the mission of her company Mazu, a healthy, positive and safe engagement platform for families, founded in love. Mazu pays tribute to traditional family values and brings the saying "it takes a village" into the digital era.
Janice has brought her message to a number of esteemed conferences such as TedX, Marianne Williamson Events, Tech TO, and recently to South by Southwest in Austin, Texas.