What is the BWB iGen Summit?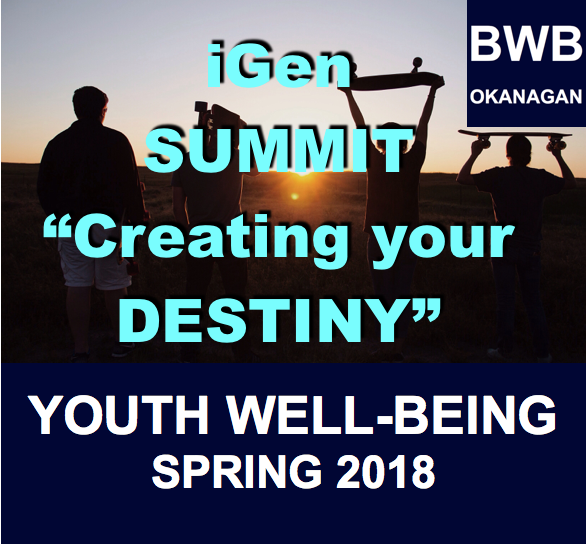 Inspired by WE Day and a Passion to support the Okanagan Youth.
Community coming together to embrace our LOCAL Youth.
This is the first edition of a three-day annual event targeted at High School students in the Okanagan within the sectors of sport, technology and arts.  The event will inspire students and provide them with opportunities to participate in activities, hear keynote speakers as well as connect with well-being (Body | Financial | Mind | Social)  providers in the valley.
Why?
High School Students are in transition from being kids to becoming independent adults with the full weight of what that entails.  We all know it is a very challenging time and we as a community need to come together to embrace and support their transition.
Teens don't fully understand what LOCAL resources are available to them.   
Support them now on their future path.

Where?
Current Venue options for the three days are:
UBCO campus

Rotary Centre for the Arts

Innovation Centre

Okanagan College

Centre of Arts and Technology (CATO)
Hopefully the participating venues will be able to provide their facilities as a sponsor of the event.
How?
Connecting with the stakeholders and coordinating a collaborative effort to support our teens by bringing them together to celebrate and inspire.
Attract participation through their primary passion and/or interest - sport, tech and art.
Activities 
Key note speakers to inspire
LOCAL well-being business introductions through booths/tables surrounding venue where teens get stamps in a passport to enter draw for prizes 
Funding
The funding provided will help ensure that attendees are only paying a nominal amount as the intent is to make it as accessible as possible.  Funds will also be required to provide key note speaker costs (travel and accommodation expenses and possibly speaking fees), activity costs and student take aways.
Community Benefit
How will the Kelowna community benefit from this project? Describe the direct and indirect beneficiaries, include numbers.
Stakeholder

Benefits

Number

High School Students

Access to well-being providers in the valley

10,000 in Okanagan Public School system

The City of Kelowna

Reducing incidence of crime and health issues through activities and access to wellbeing services.

 

 

Well-being Businesses in the Okanagan

Thrive and grow and support their mission of helping people.

600+

School Boards

Engaged students and personal care and growth.

 

UBCO

Enrolment and better students retention

 

Rotary Centre for the Arts

Involved and healthier students and extending the reach of the centre.

 

Innovation Centre

Involved and healthier students and extending the reach of the centre.

 

CATO

Involved and healthier students and extending the reach of the centre.

 
Event Impact
Peace and conflict prevention/resolution

Disease prevention and treatment

Maternal and child health

Basic education and literacy

Economic and community development
Who
Okanagan High School Students
Sports
Tech
Arts
City - Kelowna, Vernon, Penticton, Peachland, Lake Country, First Nations
Well-Being Businesses
Parents
Foundry
KCR
Sports Community
Art Community
Tech Community
AO
Recreational Facilities - such as H2O, Kelowna Family Y, Okanagan Gymnastics Center, Capital News Center and Prospera Place.
Health Societies - Diabetes,
School Liaison Officer – Kelowna RCMP, which are contracted through the City, and School District 23 have school liaison officer positions with the goal of increasing positive youth interaction and the promotion of safe schools and safe communities.
Social Development Coordinator – This RDCO position, jointly funded by the City and member municipalities, acts as a resource to assist organizations who provide harm reduction, prevention, treatment and The Fire Department provides fire protection and public safety services 8 enforcement services. Citizens served include those who are dependent, homeless, mentally and/or physically ill, and/or compromised in other ways.
Won
Access and Awareness to Well-Being Services
Council Policy 277: Grants to Address Sexual Exploitation of Youth – This program provides grants to non-profit societies and community organizations working to eliminate the sexual exploitation of youth.
KCR
Interior Health
Inspired for their future
Try something new - for focus passion and well-being business
Fun and Enjoyment
Done
Feedback
Lessons learned for next year
Input into future event - participants, booths, speakers, etc…